Security Consultancy
Hazard 360 Ltd specialises in nine key areas of consultancy to mitigate the risk to a client's assets and assist in the control of financial expenditure within a client's security budget.
Key areas:
1: Security Consulting
2: Security Training
3: Risk Control Framework
4: Compliance and Audit
5: OPRD, Electronic Security Systems
6: Technical Drawing Mark-up
7: Policies and Procedures
8: Specialised Associate Services
9: Bespoke SRA Design
10. Project Management
Security Consultant Services
1: Risk Advisory Service
This service is suitable for businesses that are unsure of their security requirements, or who possibly wish to examine their current security provision, possibly identify any areas of security weakness, or risk. The service includes the preparation of a short summary report with only those key recommendations.
2: Physical Security Assessment (In-depth)
Currently we utilise our proprietary Physical Security Risk Mitigation Analysis Calculator platform, which scrutinises the strengths and weaknesses of an organisation's security measures.
The "Risk Analysis" is an analytical process designed to provide a full understanding of a company's vulnerabilities, and how potential threats may exploit those weaknesses, encompassing the evaluation methodology.
The "Risk Analysis" also quantifies vulnerabilities, overall risk and possible losses and presents an objective representation of a building's security position. The process includes a review of the risk control framework, interviewing of personnel, recording observations and providing photographic evidence, where applicable.
Finally making recommendations in a detailed investigation to mitigate all exposed threats, risk(s) and vulnerabilities presented in a thoroughly comprehensive report.
Objectives
Security Assessments are an excellent way to evaluate your existing security programme.
The first step to take, prior to making security improvements at your facility and/or when trying to solve a specific security problem, is the following. During a Security Assessment, all aspects of your present security programme are examined, observations are made regarding vulnerabilities, weaknesses or gaps. Then recommendations are made on a cost benefit basis commensurate with the level of risk and proposals are outlined for further security improvements.
Opportunities are identified where costs can be reduced, or where security operations can be made more efficient.
Example: Security Risk Assessment (Commercial Premises)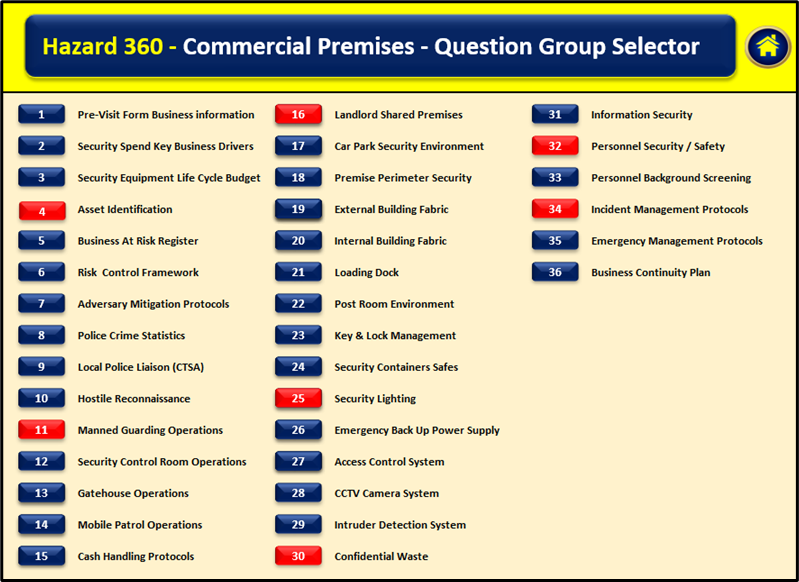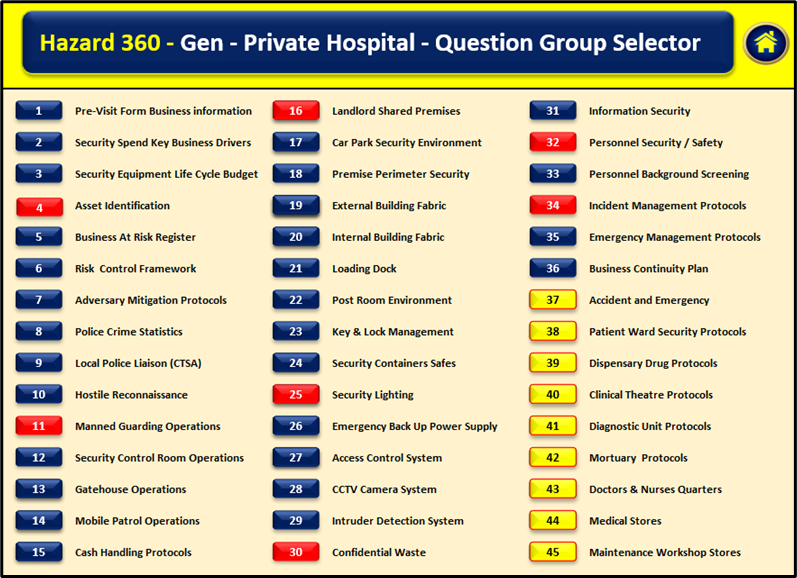 As you can see, dependent upon the business type, the security assessment template changes to encompass more or less of an area to assess.